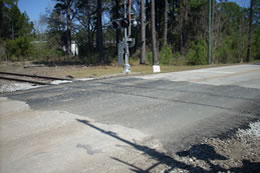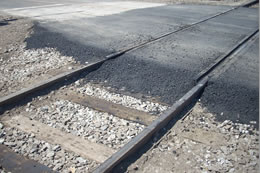 Applications
Click below for more applications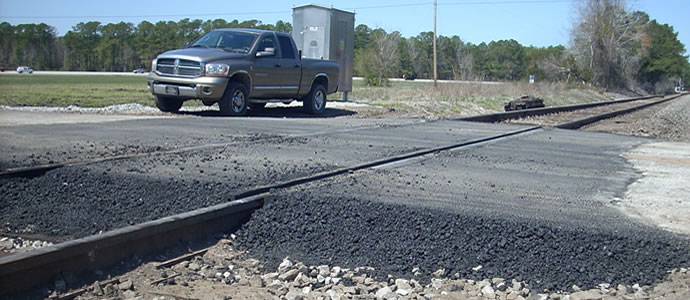 Norfolk Southern Level Crossing, North Carolina
The approximately 80-mile stretch between New Bern and Selma, North Carolina is a particularly scenic, rural area in the eastern section of the state. It is also where the Norfolk Southern Railroad crosses highways 117, 13, 11, 258 and many secondary roads serving the towns of Goldsboro, Rosewood, Princeton, Pine Level, Kinston and Cove City.

Many of those crossings are key at-grade intersections for the region. Because railroad companies are almost always responsible for safety and pavement maintenance - not the municipalities in which they lie - Norfolk Southern embarked on a track crossing improvement program in the latter half of 2010.

As it happens in remote areas, getting hot-mix asphalt to remote locations for relatively small jobs presents timing problems. Paving an entire road would of course use the full contents of what fits on a hot-mix asphalt truck. Repairing small sections of a railroad crossing and adjacent pavement in the railroad-owned right-of-way, however, does not require a truckload of asphalt. Delays in work for any reason can further lead to cooled asphalt - and waste, in product as well as work crew time.

EZ Street cold mix was the solution. The contractor was able to stockpile the material in strategic locations without worries about timing. In most locations, an asphalt paver was not needed as the job was completed with a backhoe (for removing old material), a truck and a roller, using 3-person crews only. And because the installed product is ready for traffic immediately after installation, disruption to area residents and businesses, and the trains themselves, was minimal.