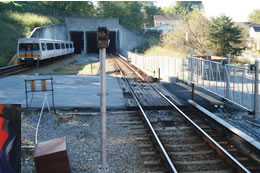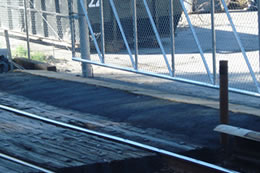 Applications
Click below for more applications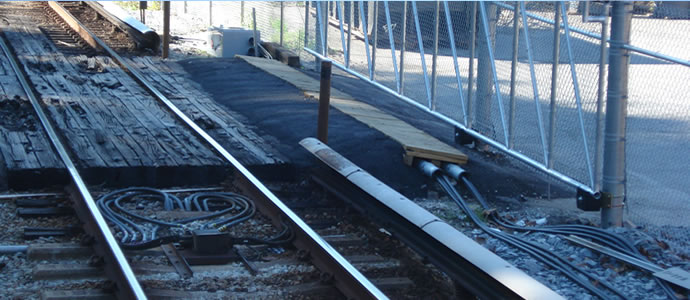 Fixing Marta So Atlantans Can Work, Play
Atlanta's light rail commuter system, Marta, connects a cross section of the greater metro area, with four lines reaching out from central part of the city to the north, east, south and west portions of the greater metro area. From places such as Stone Mountain and Avondale Estates, the Hartsfield Airport, North Springs and Doralville, commuters daily go into and out of the downtown on the relatively young system, built since 1972.

More than 148 million passenger trips were recorded in 2010. To keep them whisking along to destinations near and far, maintenance work around the tracks is almost ongoing. Here a temporary ramp needed to be installed to accommodate work on and near the tracks. The ramp had to be strong enough to support service vehicles, so a simple low-quality "throw-and-go" cold mix would have made a poor choice.

EZ Street cold mix, a higher-quality higher-performance asphalt, instead provided a better choice. It can be shipped and stored in bags and sacks - as little as 35 pounds on up to 500 pounds - or stored in bulk piles, all up to a year.

For as large a system as Marta, on-shelf quality asphalt can translate into maintenance savings and convenience. When small jobs such as this - even if temporary - have to provide dependable pavement, a truckload of hot mix would be expensive overkill. Most of the asphalt would cool and harden before it could be used. With EZ Street, spot work becomes economical even as it is also more dependable.

Passengers want dependability. Without it, the service would not be used - a shame, because Marta was designed to service many recreational and avocational pursuits. Several attractions exist in close proximity to Marta stations: the Atlantic Civic Center, Atlantic Station Arts Center, Buckhead, Centennial Olympic Park, Georgia State University, the High Museum of Art, Turner Field, Underground Atlanta and The Varsity. This means that the well-functioning train system is used during the week and on weekends - for people coming from the north, east, south and west.